ABOUT US
Berkshire Youth has been serving the young people of Berkshire, delivering excellent and highly efficient youth support services for over 75 years. Founded as Boys Clubs in 1940 we are the only Berkshire county organisation of this type to continue supporting youth work.
In particular to cater for young people who are likely to miss out because they are not yet in crisis or face other barriers to access such as mental health challenges, caring responsibilities or low self-esteem and self-confidence.
Active & Healthy Lifestyle Projects
FOUNDATIONS OF CLUBS AND YOUTH WORK
RECENT BUDGETARY CONSTRAINTS
These cuts have seen a marked shift from prevention towards support for those already in crisis or at very high risk and increasing numbers of young people are not supported until their needs reach a crisis.
Statutory services cohort focus.
In Berkshire, local authorities report that over 50% of social services referrals are inappropriate; young people with no access to universal support but not meeting the threshold for social services support. As a result, young people who cannot access a commercial/formal offer are not adequately provided for.
Agree youth clubs support young people without alternative access.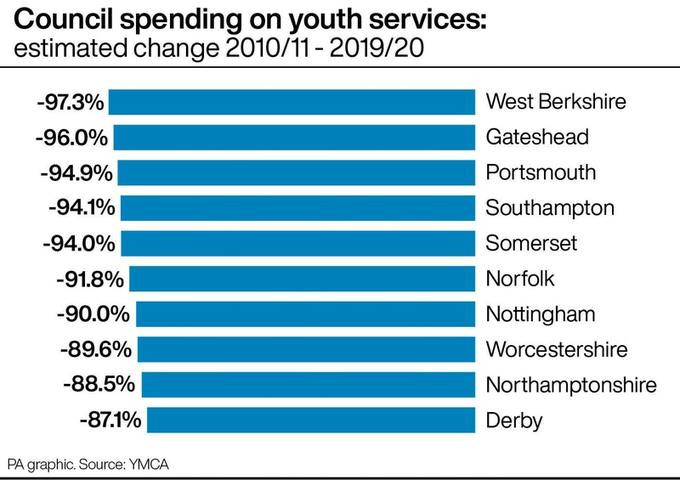 THE LOCAL NEED
THERE ARE AREAS OF SIGNIFICANT MULTIPLE DEPRIVATION WITHIN WATERSIDE CENTRE'S CATCHMENT, INCLUDING THE MOST DEPRIVED AREA IN WEST BERKSHIRE, GREENHAM WARD WHICH RANKS IN WORST 20% OF AREAS IN THE ENGLISH INDICES OF MULTIPLE DEPRIVATION. AN AREA IN THATCHAM NORTH ALSO RANKS IN THE BOTTOM 30%. Areas ranking in bottom 30% for education attainment.

Areas in the bottom 30% for crime.

Areas in the bottom 30% for income deprivation.

Young people in Berkshire many facing poor life chances.

West Berkshire children living in poverty.

Young people in West Berkshire with mental health disorders.
PROPOSAL
We propose to refurbish the building, providing:
A facility for the young people of Newbury: a youth club, activities, a safe space
A community building available for clubs and societies
A valued asset for the Newbury community
The Waterside Centre:
Constructed in 1960's
Good bus and train service
Facing the River Kennet
Owned and occupied by West Berkshire Council
Currently under utilised
Ground floor = 687.2m2. First floor = 117.6m2
Current utilisation:
Mainly WBC offces, two employees
Some contact with young people re drug counselling etc.
Occasional use of climbing wall
Canoe races, four Sundays per year
YMCA, one evening per week
Ukulele group, one evening per week
IMPROVED UTILISATION
The building is very well located, and if refurbished could provide all of the following.
A safe space for the young people of Newbury:
Youth clubs and activities
Supporting young people with social problems
Facilities for the local community:
Climbing wall
Hall
Music groups
Dance studio
Canoeing
Cafe
OPERATION
Operated by Berkshire Youth with a local advisory board, including young people
Activities – climbing, theatre, dance and water based activities
Youth & Community Zone and an Activity Zone
Positive role models and mentors for young people
Generate commercial income – be self sustaining
Managed – an inspiring manager, supported by sessional and specialist instructors

Partnerships to access other services.


Provider of activities that enhance health.
Key operating principles:
Be a safe neutral place for all young people
A place for the development of social enterprise
Inclusive of all young people, families and communities
Operate robust safeguarding policies
Offer appropriate challenge and adventure to all young people
Facility management:
A professional manager will be required
The manager will be supported by an admin/finance role, and café manager
Part time staff will be need to support youth work, climbing, canoeing etc.
CONCLUSION
With professional management, a refurbished Waterside Centre will provide:
An excellent facility for the young people of Newbury
A community building, available for clubs and societies
A financially self sustaining model